For VERSA-LOK Standard Units
The VERSA-Lifter makes it easier to lift and place wall units, especially on the base course. The two prongs on the lifter are placed into the holes in the VERSA-LOK Standard unit. The action of lifting the handle secures the lifter to the unit and makes for easy, balanced lifting and placement. VERSA-Lifters are available from your local supplier.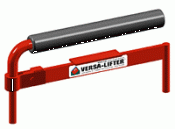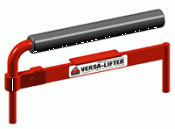 For VERSA-LOK Square Foot Units
Installing VERSA-LOK Square Foot retaining walls just got easier with the new Square Foot VERSA-Lifter . Now, your crews can lay a lot more block in a lot less time with less strain using a simple tool that has proven itself with VERSA-LOK's Standard SRW system.
The design of the Square Foot VERSA-Lifter works on the same principle as the original model. Prongs on either end of the lifter are placed in the retaining wall unit's end holes and as the hinged bar is lifted, the prongs grip the holes and the weight of the block secures its hold. The two-handed carrying handle has a comfortable rubber sleeve and is positioned to balance the unit evenly for maximum ease in carrying. Eighty-seven pounds will never feel lighter! And with a durable, bright red, powder-coated finish, you'll never misplace it on the job site.
The Square Foot VERSA-Lifter is available wherever VERSA-LOK retaining wall systems are sold