When Swedish home furnishings icon IKEA sought to build new Midwestern store, a shopping center landscape created with feet of retaining walls in Merriam, Kansas, was in its sights.
A southern suburb of Kansas City, Merriam is a beautiful town located on Turkey Creek. Developers MDT and Developer's Diversified Realty wanted to create a historic feel for the new mall, calling it "Merriam Village." The location was ideal with 150,000 vehicles passing on I-35 each day, and some 210,000 people with annual household incomes of $72,000 in a five-mile radius.
"The developer wanted the retaining walls to mimic the look of natural stone, and VERSA-LOK Mosaic was a great solution," says Mike Stein, P.E. for Shafer, Kline & Warren, of Lenexa, Kan., which designed Merriam Village. "We were able to give the project an old-world kind of feel, which went well with old-town Merriam, which is in a historic district."
Joseph Roth, U.S. public affairs manager for IKEA, said that careful site selection is key for its distinctive North American stores. "IKEA doesn't open stores very often," he said. "When we do open, it is for the long term."
Award-Winning Walls
SKW selected VERSA-LOK for its ease in incorporating design elements on all portions of the five walls in the project, said Stein. The design combined VERSA-LOK Mosaic wall units, with a weathered texture, for the wall face and VERSA-LOK Standard wall units, for architectural details.
The varied design definitely makes the walls stand out. Elements included serpentine curves, terraced walls, columns, fencing and pilaster bump-outs, a signature SKW touch that adds dramatic appeal. Columns are spaced along the entire length of wall, and freestanding columns are joined by aluminum fencing. Two walls that support roadway on the east end of the project were built about 3 feet above grade to create a planter for landscaping that also serves an attractive alternative to a traffic barrier or guardrails along the road.
"Originally there was nothing there but gradual slope, so we put in 40 feet on the north side to make the plateau usable for the shopping center," Stein said. "On the south side, a 30-foot wall is tiered with landscaping, where it supports a police station and patrol car lot. The tallest part of the wall, on the southwest end where there is a car dealership, is at 44 feet and has freestanding columns and fencing."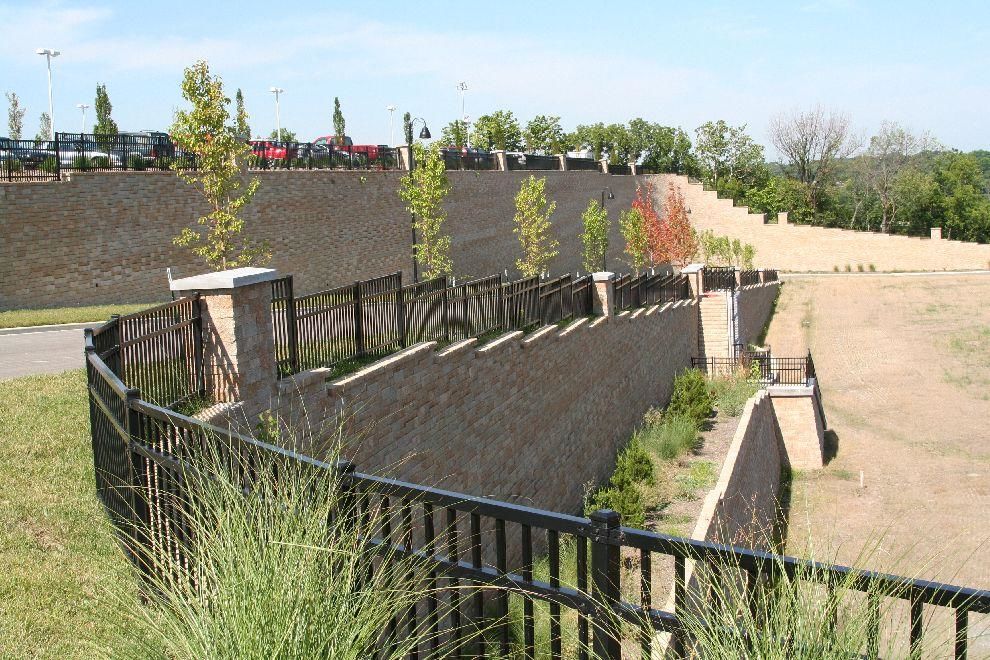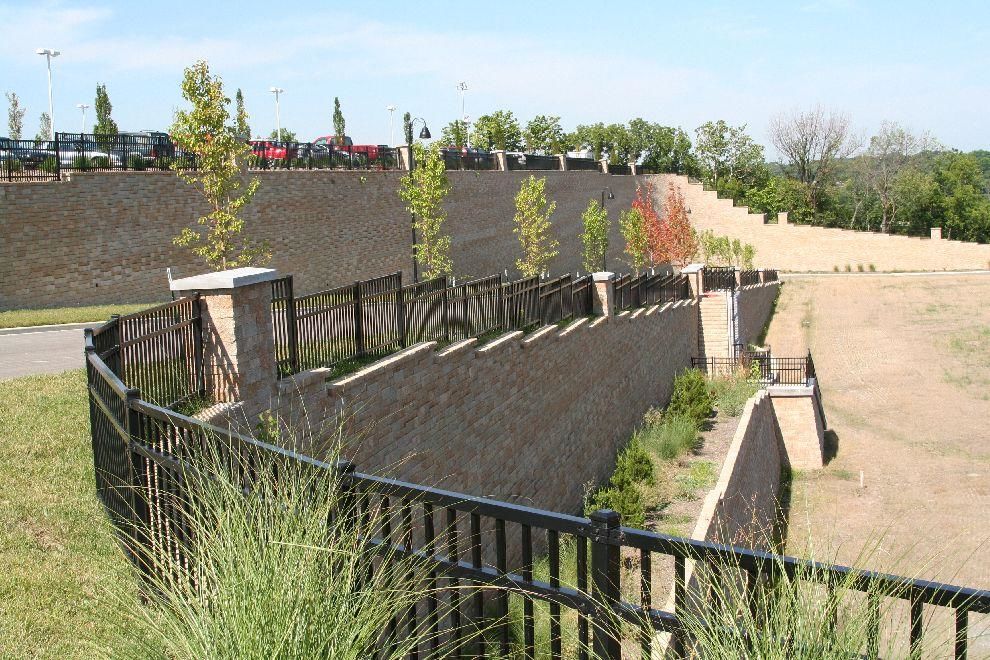 Soil backfill was used in the geogrid zones, but as construction continued over the winter of 2007-08, backfill was switched to clean aggregate. Some of the geogrids were as long as 40 feet. More than 100,000 tons of gravel was used in the reinforced zones of the walls.
"This is such a huge site, and VERSA-LOK met the challenge of creating a variety of walls, tiered walls, planting beds and columns," said Justin Meyer, vice president at Midwest Block and Brick of Kansas City, manufacturer of VERSA-LOK SRWs. "VERSA-LOK's versatile multi-piece Mosaic system worked well with the Standard system to create a beautiful solution for this project. The color, called Bethany Ledge, is intended to closely represent the natural limestone formations in the Kansas City area."
In 2011, the project received a Hardscape Commercial Award from the National Concrete Masonry Association. "At that time, it was the largest wall project made of VERSA-LOK Mosaic in the Midwest," said Chad Johnson, national sales representative for VERSA-LOK.
A Prominent Landscape
Construction was finished in early 2008. Shortly thereafter, Circuit City, the center's first anchor tenant, filed for bankruptcy and never opened its almost completed store. The satellite stores that would follow never arrived, and the mall sat empty.
While developers and the city of Merriam waited patiently for a new anchor tenant, IKEA had been quietly eyeing the highly visible site on top of a 40-foot high stretch of wall along the freeway that bisects the lower 48.
"It's kind of an interesting story," said City Administrator Phillip Lammers to a reporter for The Pitch, an alternative newsweekly. "These guys [IKEA] knew more about us than we knew about them." And it was possible that IKEA might have never considered the site if not for Circuit City's demise, he surmised.
While the mall sat vacant, revenue from the center's tax increment financing (TIF) district for the public investment would fail to materialize until a new anchor tenant was found, making Merriam citizens worry. The ghost mall took on a landmark status when citizens started calling it the "Great Wall of Merriam."
In 2012, the Kansas City Journal announced IKEA's interest in the site. Store planners, wrote reporter Steve Vockrodt, "won't go into specifics about why IKEA picked the site. Part of it, however, has to do with that pesky Great Wall of Merriam. … [which] gave the site ample visibility from Interstate 35."
Roth told reporters: "We chose Merriam for our IKEA store because it is centrally located along I-35, the prominent corridor in the market. … [and because of] the size of the site, the configuration of the site, and for lack of a better term, the elevation of that site, the fact it was on a hill, [that was called] the 'Great Wall of Merriam.' … It's not just access and visibility. It's prominence. This site is very prominent."
To accommodate IKEA's store design, contractors removed the empty Circuit City store, reworked areas of the wall, and added 50,000 square feet of additional walls. IKEA opened in fall 2014. Clearly, after a slow start, the "Great Wall of Merriam" made a good site greater.