Sometimes, if you want the job done right, you just have to do it yourself. That's what Mike Smith decided when he arrived at University of Wisconsin-Stout four years ago to take over as campus grounds supervisor. Since that time, he's transformed his realm from a maintenance department that contracted out most of its landscaping work into a full-service landscaping department that does everything from plantings to engineered VERSA-LOK retaining walls.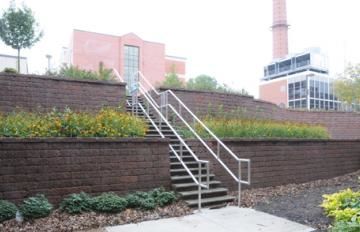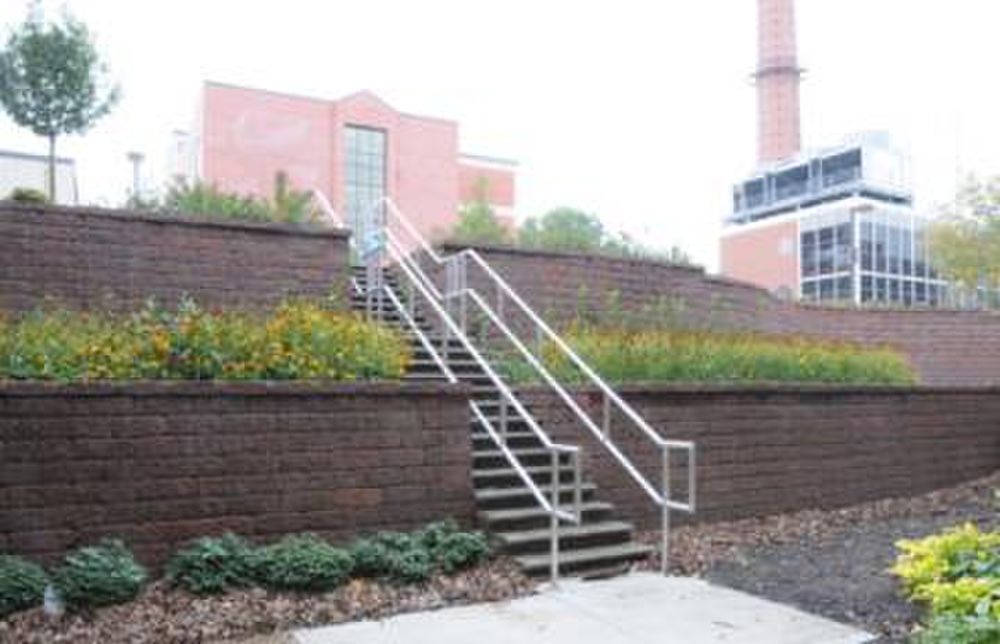 "There really isn't anything we haven't put in on campus," says Smith, who has a degree in landscape design and owned a garden center for 15 years.
The first year Smith started to expand his department's responsibilities beyond strictly maintenance, he recalls, "People liked the work and said you can do more." He took that to heart, and his crews have since taken over just about all the campus landscaping functions.
"I'm booked out through all next summer," Smith says, a bit exasperated. "We were overbooked this year. We like problem solving—erosion issues, soil built up on buildings. We do a lot of grading."
That has led to some interesting discoveries, Smith notes.
"The campus is built on the old part of the city. You pick something, we've found it in the ground. We have yet to dig a hole by hand or by machine and not dig up bricks," he says.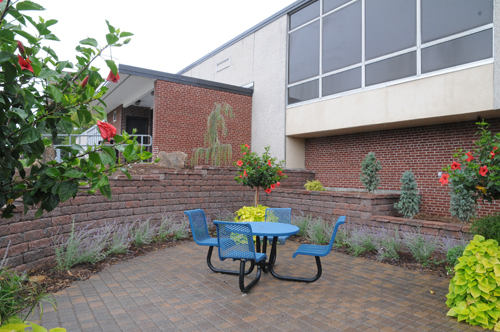 Much
of their problem solving involves hardscapes, Smith says. They recently
excavated around a building to resolve a drainage issue and found weep
holes in the foundation 3.5 feet below grade. A large oak tree in the drainage area was also covered in soil several feet above its root flare.
The solution? First, the area against the building and around the tree was excavated. "All these came falling out of the soil when we dug it out," says Smith, waving his hand at a shelf full of antique apothecary bottles and jars in his office.
Then, tiered VERSA-LOK retaining walls were built to open up the space along the building. The upper-tier wall sweeps around the oak tree in a series of graceful curves, and lush plantings of black-eyed Susans brighten the flower beds between the two walls. VERSA-LOK stairs integrated into the retaining walls provide access to the below-grade space between the wall and building. A new catch basin then was installed at the bottom of the building.
This summer, Smith's crew excavated a slope below the front entrance of another building to deal with a drainage problem and make room for a paver patio with outdoor seating. The patio was carved into the slope and framed by VERSA-LOK planter boxes alongside the building and a long, curved wall that steps down with the grade. The surrounding area was landscaped with decorative boulders, flowering trees and other plantings.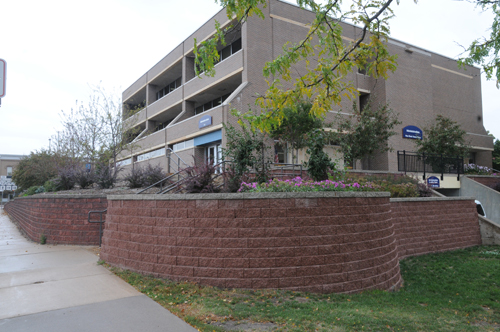 On
a tour of campus landscaping projects, Smith points out other smaller
retaining walls that have resolved minor drainage issues around
dormitories, along with a towering 30-foot VERSA-LOK wall supporting a
parking lot that was installed by an outside contractor.
VERSA-LOK was Smith's initial choice for hardscapes at UW-Stout because "they had some on campus that we had to match," he explains, but it's become his exclusive retaining-wall product now. "I especially like the pinning method and the solid construction. They make it easy to work with and install. It's got to function, and it's got to look good."
In addition to the quality products, Smith says, "I get good service from VERSA-LOK. It's all about building good business relationships."