Tiered VERSA-LOK Segmental Retaining Walls Enhance Pedestrian Underpass
Eau Claire, a town of 66,500 in west central Wisconsin, often ranks high on quality of life lists. In 2013, the Wall Street Journal's Money Watch designated the city as one of the best places to retire in the United States. City planners and citizens have ensured that pedestrians and bicycles will have a place in the city's future with projects like the Hastings Way pedestrian underpass. City planners choose the VERSA-LOK Mosaic retaining wall system to create an inviting and attractive entryway to the underpass.
The Wisconsin town's quality of life can be attributed partly to Eau Claire's strong pedestrian and bike plan, recognized in 2012 by the American Planning Association with the Wisconsin Northwest District Recognition Award.
In 2009, the city council approved an $8.34 million project to return an old U.S. highway to more of its former life as a landscaped boulevard that was bicycle and pedestrian friendly.
U.S. Highway 53 ran through the city and connected with neighboring Altoona and had become dangerous over the years. "It was an older commercial area with strip malls, geared toward autos and was very unsafe for pedestrians, as it became a central hub for the east hill neighborhood," said Douglas Derks, deputy city engineer.
Called Hastings Way after its 1916 configuration, the artery was returned to the city by the Wisconsin Department of Transportation when a new U.S. Highway 53 bypass was constructed in 2007.
That gave the city the opportunity to look back and ahead. "A citizen advisory committee looked at our whole system," said Derks. "We wanted to imagine the future of the city to better accommodate bicyclists and pedestrians."
The Chippewa Falls, Wisconsin, office of engineering firm SEH Inc. held a series of public meetings to present design options, including roundabouts, over/underpasses and other proposed solutions. Ultimately, the final plan maximized safety for walkers and wheelers and included plans for two underpasses at the busiest intersections.
"The project really recalls the days before it became a U.S. highway," said Derks. "We wanted to return to when it was an urban street, with sidewalks, trails, landscaping and trees, and completely change the look of the corridor. Over the years there were numerous accidents, and we knew that a safer design could be put in place."
The Hastings Way redesign included two additional underpasses, at Tamarack Street and Fenwick Street. The Tamarack underpass was completed in the project's early stages, but the Fenwick underpass, at the corner of a school, day care center, senior apartments and a grocery store, met financial challenges and failed to pass two separate votes by the city council.
After the second failed vote, Eau Claire Leader Telegram editor Don Huebscher wrote in an op-ed piece that despite the votes, future underpasses should not be tabled. The needed funding came from a local church that owned the daycare center as well as the grocery store, and the Fenwick underpass was passed after a third vote.
Completed in fall 2012, the Fenwick underpass provides a safe crossing for pedestrians and cyclists. With an underpass at such a high traffic area, the engineer and landscape architect tackled a visual problem: How could the entrances be inviting for pedestrians so they wouldn't feel like they were going underground?
The solution was in tiered VERSA-LOK segmental retaining walls, which were chosen to match hardscapes previously installed at the Shops at Oakwood mall and a planter wall along Hastings Way. Those earlier projects used the VERSA-LOK's Weathered Mosaic wall system in the Rose Creek Blend color.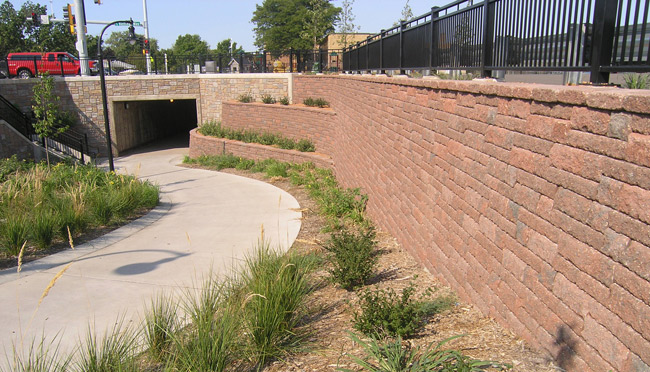 Multi-level, tiered walls provided a visual contrast to the 6-foot-high retaining wall at street level. Trees, plants and shrubs planted within the tiers created an interesting, inviting entrance. Rain gardens at the entrances manage stormwater runoff, relieving some of the capacity handled by the city's storm system running under the tunnel.
"The design of tiered, planted walls gives the underpass entrance a welcoming, visual appeal from street level to below ground," said Gary Hansen of Hansen Land Construction of Eau Claire, whose company completed the turf restoration, tree planting, finished landscaping and hardscapes for the street redesign.
"We used the VERSA-LOK Mosaic product to match what had been done before," said Hansen. "It was the first time we had used this particular VERSA-LOK wall block, and like other products in the line, it was very easy to work with, especially when we changed some of the plans."
The VERSA-LOK Mosaic wall system uses two VERSA-LOK Accent units, one Cobble unit, and one Standard unit to create four-unit panels that make it easy to create a natural-looking random face pattern. All VERSA-LOK products allow the creation of multi-angle curves and corners, stairs, columns, freestanding walls, along with retaining walls of any height, without requiring special units.
"VERSA-LOK Mosaic is the easiest system to use for a random, natural pattern," said Jim Freitag with VERSA-LOK Midwest. "Other systems have four or five pieces, while VERSA-LOK Mosaic uses just three units: one Standard unit, one Cobble and two Accent units. The blended color also adds to the wall's natural looking appearance."
Because VERSA-LOK wall units are solid, they have low absorption while maintaining high strength and are virtually maintenance free. "Design flexibility in this project was important since our product can do step-ups and step-downs in 10-inch, 6-inch and 4-inch increments," says Jason Rexine, manager of contractor sales for VERSA-LOK in the Minneapolis-St. Paul metropolitan area. "Compared to an alternative, such as a pedestrian overpass, I'm sure the more economical cost and aesthetics of this solution came into play. It is a beautiful project."
Ultimately the underpass provides an easier grade change for bikes, wheel chairs, strollers and walking traffic, Rexine said. "With the school and residential areas surrounding it, the underpass and its inviting entrance is a great solution for this redesigned urban street."
Location:
Eau Claire, Wisconsin
Owner:
City of Eau Claire
Designer:
SEH in Chippewa Falls, Wisconsin
Contractor:
Landscape & Hardscape: Hansen Land Contractors, Eau Claire, Wisconsin, and Underpass: T & J Concrete Foundation, Cadott, Wisconsin
Manufacturer:
Willow Creek Concrete Products, Kimball, Minnesota
Product color:
Rose Creek Blend
PROJECT CASE STUDIES
From Amphitheatres to Zoos, VERSA-LOK provides Wall to Wall Solutions.