When a property backs up to a hill, outdoor options can be limited. You likely have no backyard, no safe way to the top of the hill, and a water problem in the basement. For a homeowner in Apple Valley, MN, a landscape designer used VERSA-LOK® retaining wall systems to solve these problems.
LuAnn always wanted a backyard for her dog and needed a play space for her first grandchild. Her 85-year-old mother lived a few doors down, and LuAnn and her mother made daily climbs to the top of the hill to tend their gardens or use the firepit.
"We called it Billy Goat Hill because it was too steep to mow," said LuAnn.
For Paul Devine, owner and principal of Devine Hardscape in Rosemount, MN, the challenge was making a design fit into the landscape rather than installing a big wall with center steps.
"Her yard had a hill that sloped aggressively toward her home's foundation," he said. "The negative flow caused water damage, a leaky foundation and the accumulation of dirt that had been eroding down the slope for years.
There was no flat usable area at the base of the hill, and she had never been able to grow grass because of constant erosion. The design created a positive flow away from her home's foundation, steps to the top of the hill, and a flat usable area for a backyard."
Paul created a tiered wall design with ample space for perennials and a staggered staircase with landings for rest, seat walls and potted plants. "We had planned to offset the footprint of the steps to improve safety and enhance aesthetics, but we also decided to change direction for the final set of steps to create the feel of a winding staircase."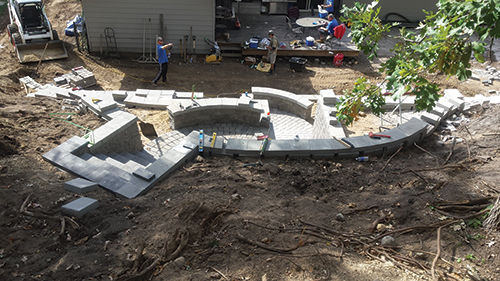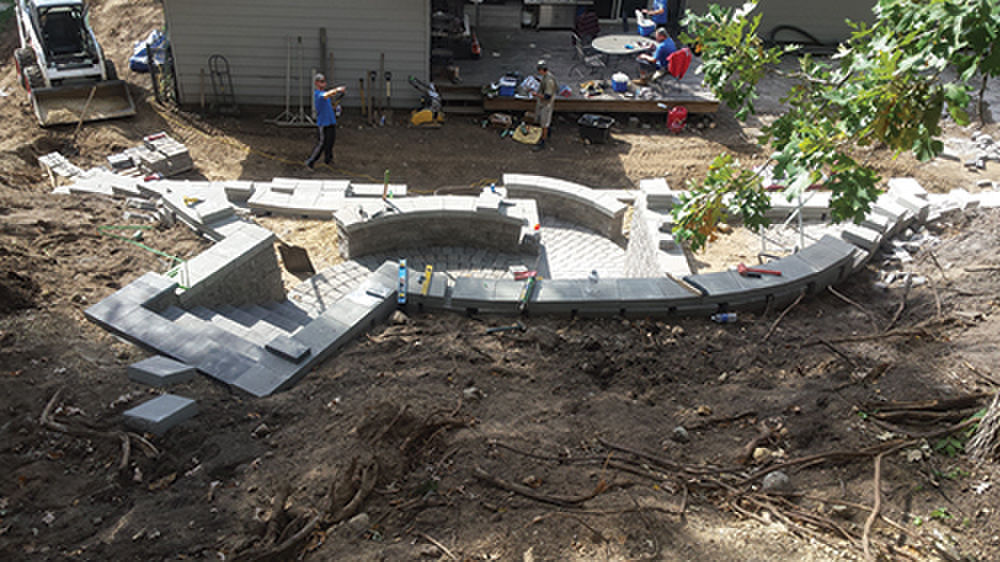 "With VERSA-LOK, I could use the same type of wall block to build the walls, steps and seat walls," Paul said.
Paul's firm employed engineering to ensure proper drainage and for the placement of soil reinforcement for walls higher than four feet tall. "We were forced to direct water back to the lower tier to create flow away from the house, so we based the lower wall out with clear rock instead of Class 2 base rock to reduce the chance of wall movement in a potentially moisture-rich environment," said Paul.
An excavator prepared the site for the first wall, which was set back 14 feet to make room for a small backyard. The second tiered wall was set back another six feet as was the third tier, creating ample area for plants, stair landings, and seat walls. The erosion solution was timely because the area received heavier than normal rainfall in the spring.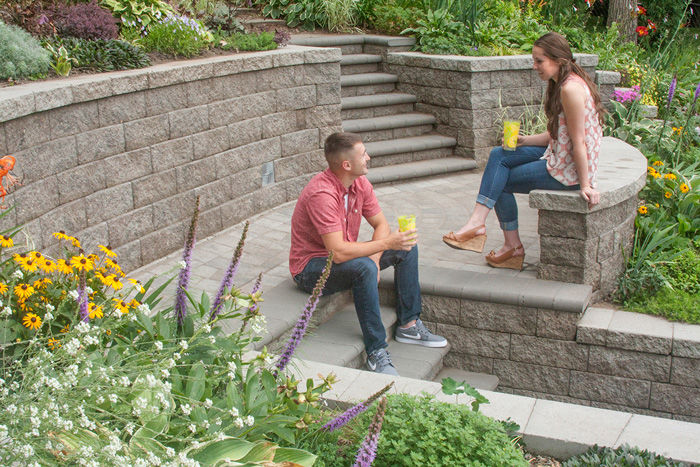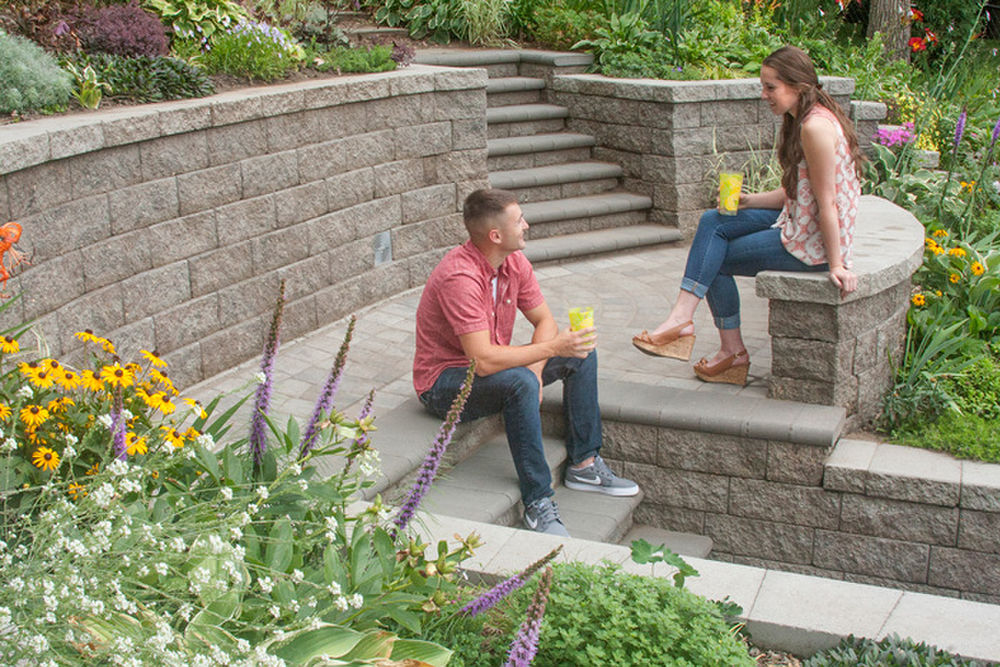 "VERSA-LOK offers a pinned retaining wall system that provides a high ratio of weight per square foot of wall face plus flexibility in design," says Paul. "I don't believe that back-locking lip walls are as structurally sound as a pinned system, and hollow blocks do not provide the stability required for large, tiered walls."
LuAnn chose coordinating concrete pavers for the landing areas, manufactured by Willow Creek Concrete Products. "We were able to perfectly match the walls, steps, seat walls and paver landings to create a seamless transition between design elements," Paul said. LuAnn says she is happy with Billy Goat Hill now that it's usable and safe. "My mom and I planted 1,000 perennials in the planter spaces made possible by the walls this spring, and we can safely access the garden and firepit for family get-togethers. My granddaughter loves the back yard and my Yorkie really likes the new grass. We've installed new drain tile around the foundation, and with Paul's design, the basement has remained dry."