​You don't find too many private residences with a 38-foot-tall, 6,000-square-foot retaining wall. Then again, you don't find many private residences with their own personal freeway-size bridge as a driveway either.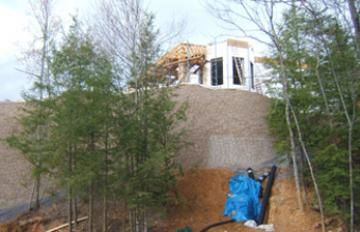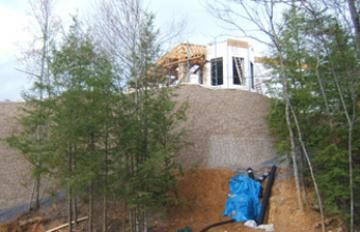 But an individual building a home on the side of a mountain outside of Gatlinburg, TN, has both. And when he installed a retaining wall, he insisted that it not only hold up the mountain, but look good too.

The wall was no easy feat for consulting engineer Scott Miller of Little Rock, AR.
"It's perched on the side of a mountain, there's a very steep slope in front of it, the house is close behind it, and we had to tie the bridge into the hill on top of the wall," says Miller. The bridge connects to a pier embedded behind the wall that was independently supported.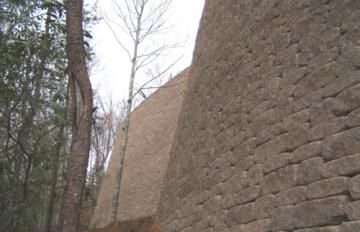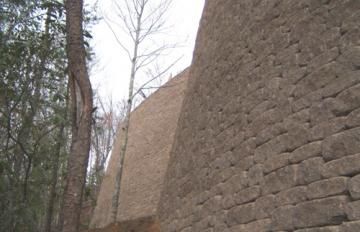 "You drive across the bridge and drive right over the top of the wall. It was a bit of an engineering challenge. There was a lot of excavation for the geogrid. We had to tie the wall into the bedrock, and we used a granular backfill to limit the settlement."
VERSA-LOK Mosaic was used for the wall, which enabled the wall to have a random pattern and still use geogrid soil reinforcement every 10 inches in height.
A new blended color was developed for the project.
"I believe the appearance and the look of natural stone sold the owner on Mosaic because this is just outside Great Smoky Mountain National Park. There's so much creek rock and other natural stone, this was just a natural blend for him. He's got something that looks natural and something that can very much do the job for him."
Miller says he's designing more and more commercial walls in which appearance is a paramount concern.
"Mosaic is really becoming popular for us," he concludes. "It's going to be our most popular wall, because we 're seeing more people care about how their walls look."